Location & Transportation
Location
Anaheim Convention Center
800 W Katella Ave, Anaheim, CA 92802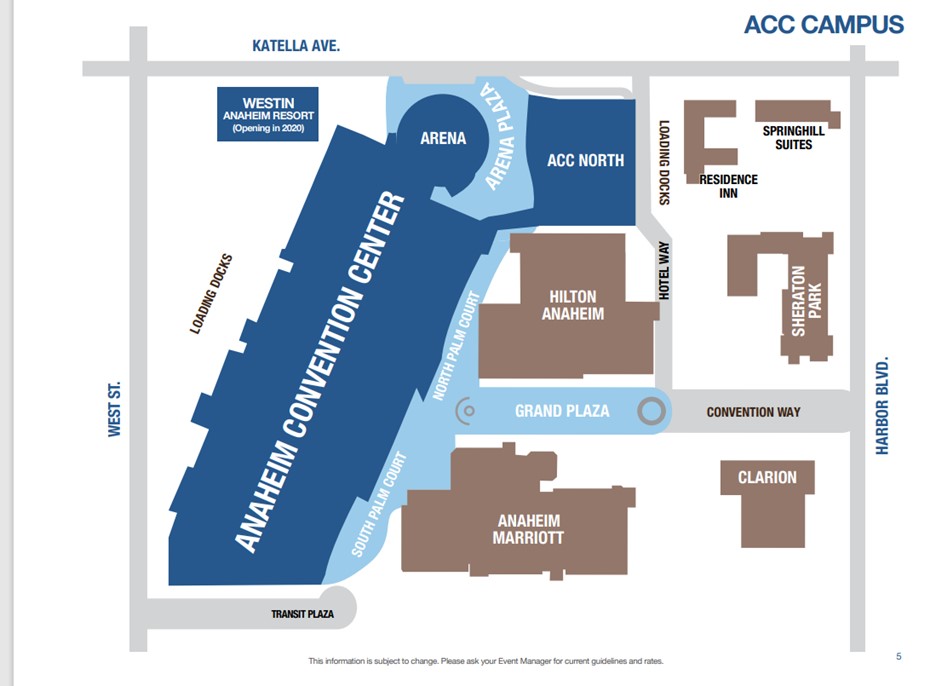 Getting Here
Flying to Anaheim doesn't get any more convenient than arriving at the John Wayne Airport-Orange County (SNA). Whether you're visiting the Disneyland® Resort, heading to the beach, or attending an event at the Anaheim Convention Center, this airport gets you close to all the great things to do in the city.
Long Beach Airport (LGB) is also a convenient alternative to Anaheim and all of Orange County. Smaller than its sibling airports, featuring only one terminal and four commercial airlines, this cultural heritage landmark is renowned for its Streamline Moderne architecture.
Less than 35 miles northeast of Anaheim, is the Ontario International Airport (ONT). Home to passenger and cargo transportation, this airport is home to many of your favorite commercial airlines and offers a variety of ground transportation once you land.
For the full airport experience, fly into the Los Angeles International Airport (LAX). LAX has everything you need to travel in style, including multiple airlines, services, stores, restaurants, transportation hubs, and more. The fifth busiest airport in the world, it serves more than 50 domestic and international airlines and has a wide range of transportation options once you land.
Airport Transportation
Circulating between hotels and airports, shuttles make arrivals and departures easy. Many hotels offer their own complimentary shuttles, so it's best to check your reservation for more information.
A few local shuttle operators, such as Super Shuttle and Prime Time Shuttle, offer service to airports and hotels and so much more. Whether you need a van, sedan, tour, limo or a bus, Karmel Shuttle will help you complete your trip in style.
Anaheim Shuttle Transportation | Airport & City Services (visitanaheim.org)
Airport Transportation Made Simple | Book a Ride | SuperShuttle
Uber
Lyft: A ride whenever you need one
Parking
Prices vary and start at $20. Please note the parking lots only accept credit cards.
Map of parking locations
ACC Parking Map 2023.pdf
Ride the Rails
Head on over to the Anaheim Regional Transportation Intermodal Center (ARTIC), which provides rail, bus, taxi, and other services for daily commuters, visitors, and leisure travelers. Walking distance from the Honda Center and Angel Stadium, ARTIC is a convenient way to get around! From here you can also access the Amtrak Pacific Surfliner® and Metrolink® Terminals.
Take the Bus
Once you're in town, the Anaheim Regional Transportation (ART) takes passengers all around Anaheim with comprehensive routes. ART is a network of 19 interchangeable bus routes with service to more than 70 stops in and around Anaheim and Orange County. It provides service 7 days a week, typically beginning one hour before the Disneyland® Resort opens and ending 30 minutes after closing time. 
Drive Your Car
Anaheim is easily accessible by car via three major highways feeding into the city. Whether traveling North or South on I-5, East or West on CA-91 or winding down CA-22, all roads lead to Anaheim. 
Rent a Mobility Scooter
Please have your scooter delivered to your hotel. Mobility scooters delivered to the convention center will not be accepted.
D and R Mobility
D and R Mobility – Mobility scooter and stroller rentals near Disneyland
Select Mobility Scooter Rental
Disneyland Scooter Rental - Anaheim Scooters - Select Mobility Scooter Rental